We are having early reviewer program. If you are interested in Car DIY or Mods, join our early reviewer program and become the first to get the latest car console charger. Please contact pd@carqiwireless.com and leave your car Model & Year so that we could arrange proper products for you to review.
If you want to purchase from Amazon directly, search "Nissan Sentra Wireless Charger CarQiWireless" or click this URL:
https://amzn.to/3wVsgYn
Great Fit: Our wireless charger phone is the newest customized design for Nissan Sentra 2020 2021 2022 Nissan Sentra S, SV, and SR. You can take advantage of the wireless charging function in your car with it.
EASY INSTALLATION: No insert phone, NO plugin & plug out cables, plug & play, drop & charge, pick up & go, enjoy the real wireless convenience, save 1 minute every day in daily commute, a must-have accessories & perfect gifts idea for Nissan Sentra 2020 2021 2022 owners
CASE FRIENDLY: Support wireless charging with a phone case (If it is too thick, pls remove the phone case), If not charging, please check if there is any metal like coins, IC cards, etc between the phone and charger.
COMPATIBLE PHONES : CarQiWireless charger is compatible with iPhone 14 Pro Max / 14 Pro / 14 /iPhone 13 Pro Max / 13 Pro / 13 / 13 Mini / iPhone 12 Pro / 12 / 12 Mini / SE (2020) / 11/ 11 Pro / 11 Pro Max / XS Max / XR / XS / X / 8 / 8 Plus, Samsung Galaxy S20 / S10 / S9+ / S9 / S8 / S8+ / S7 edge / S7 / S6 edge+ Samsung Note 10 / Note 9 / Note 8 / Note 7, Pixel 3 / Pixel 3XL and All Qi-enabled phones and devices
【Gift for him】:International Women's Day, Women's Day Gifts For Women, valentines day gifts for him valentines day gifts for boyfriend valentines day gifts for men valentines day gifts for dad anniversary birthday mothers day fathers day men gift for men gifts for husband Christmas anniversary gift for mom gift for women gift ideas
Wireless Charger Phone for Nissan Sentra B18 2020 2021 2022 Accessories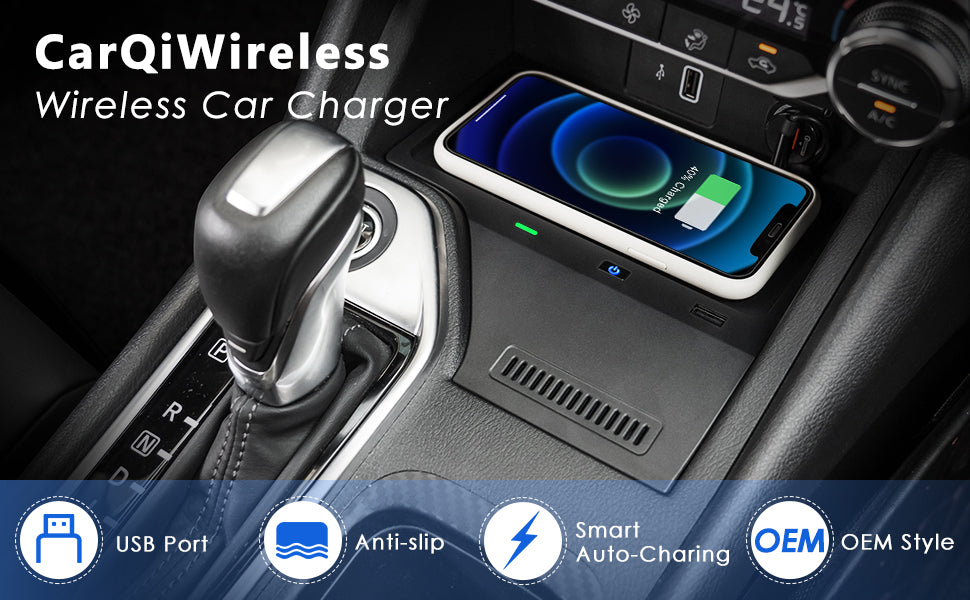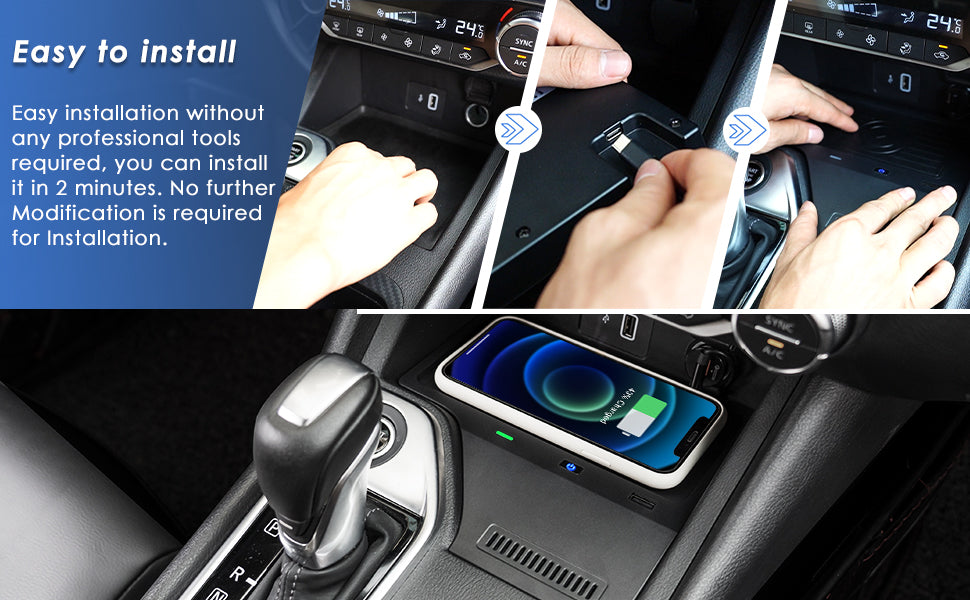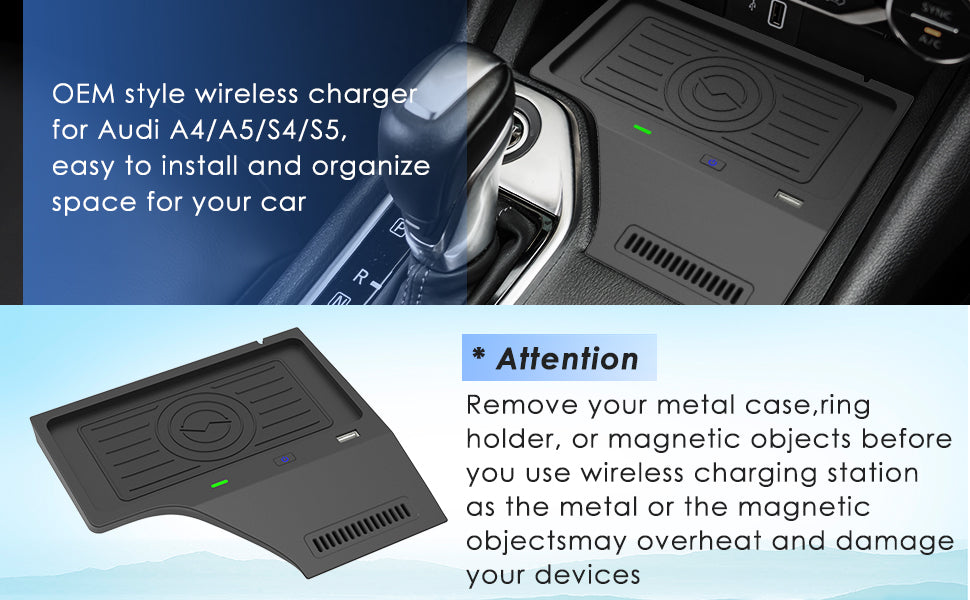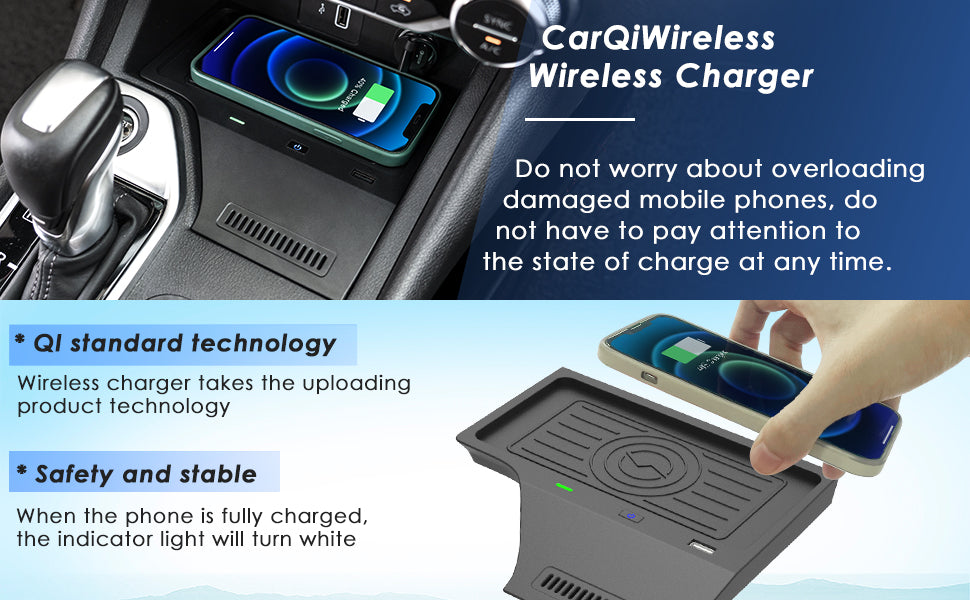 Product Features:

1. Qi wireless charger pad for a car is made of durable material, it is strong and durable.

2. It is useful wireless phone charger mount for car and helpful wireless charging stands at home and office.

3. Case friendly for this wireless charger phone mount, the thickness of the case less than 4mm.

EASY INSTALLATION
- Easy installation, everyone can DIY in minutes. No damage the car original structure. No messy cables anymore after install. Seamless match the original car structure of Nissan Sentra.12 months warranty, any question feel free to contact us at any time.
Wide Compatibility:

Qi car charger wireless charging pad for car is compatible with all smart phones with Qi wireless charger.

✔7.5W fast wireless charging for iPhone X XR XS XS max 8 8 Plus

【Fast wireless charge mode must using a QC 3.0 adapter (not included)】

✔10W fast wireless charging for Samsung Galaxy S10/ S10+/ S10e / S9 Plus/ S9/ S8 Plus/S8/ S7/ S7 Edge; Note 9/ 8/7; LG V30/ V40/ G7

【Fast wireless charge mode must using a QC 3.0 adapter (not included)】

✔ 5W Standard Charging for Samsung S6/S6 edge, Huawei Mate 20 Pro, and other Qi-enabled phones

【Standard wireless charge mode must using a 5V/2A adapter (not included)】

Product Specification:

Input: 5V/2A,9V/1.67A

Power: 10W/7.5W/5W

Color: black

Working efficiency: 75% -- 83%

Display signal: LED

Package:

1 x Car Qi Charger pad

1 x non slip mat

1 x Type-c cable

installation manual

Kindly Notes:
1. The wireless charger must be plugged into QC 3.0/2.0 car charger or the QC 3.0/2.0 wall charger to charge your device. (Both charges not included in package)

Q&A
Q: Can CarPlay still be used with this thing?
A: This device is simply a wireless charging pad. There will be no change in the functionality of Apple Carplay, if you can connect to Carplay wirelessly already you will be able to continue to do so.

Q: How does this charging device connect to the car for power?
A: It plugs into the front cigarette lighter (12v outlet) it will charge your device when the vehicle is turned on through wireless charging.

Q: How do you install it?
A: You pull out the rubber pad that came with the car. Plug in the new one to the cigarette lighter, it's a very short cord that fits perfectly. Then lay the new charger in the old plastic mat tray. Very very easy. All hardware included.