We are having early reviewer program. If you are interested in Car DIY or Mods, join our early reviewer program and become the first to get the latest Car accessories products. Please contact

 

pd@carqiwireless.com

 

and leave your car Model & Year so that we could arrange proper products for you to review.
Valentine's Day Mother's Day Fother's Christmas Day Gift--Patent Design: only designed for Honda Accord 2018 2019 2020 2021 2022. Fit for the original car center console of all 2018 2019 2020 2021 Honda Accord LX/Sport/EX/ EX-L/Touring and for Honda Accord Hybrid models: for Honda Accord Hybrid Base/ EX/ EX-L/ Touring
Compatible with all QI enabled wireless charging devices like iPhone 14 Pro/ iPhone 14 Pro Max/ iPhone 14/ iPhone 13 mini/ iPhone 13 Pro/ iPhone 13 Pro Max/ iPhone 12/ iPhone 12 Pro/ iPhone 12 Pro Max/ iPhone 11 Pro/11/X/8,Samsung Galaxy Note 10/Note 10 plus/S10/S10 plus/S10E,etc.Built with an indicator light showing the charging state, and designed with an ON-OFF button, turn it off, it can hold things as a storage box for sunglasses, etc. The charger mat helps you get rid of the annoying charging cable.
Comes with an Anti-slip eco-friendly silicon mat that perfectly integrates into the charger, it can still be taken out for cleaning and is built with a fence to keep your phone horizontally in place. Designed with heat emission holes on the back for a cooling, greatly improve charging efficiency. Support wireless charging with phone case(If it is too thick, remove the phone case), If not charging, please check if there is any metal like coins, IC cards, etc between the phone and charger.
If you don't want wireless charging, you can also charge wired, we have designed a wired USB port; Long-term testing under various conditions such as multi-model, multi-scene, with and without casing, mobile phone shift, etc, can be continuously and stably charged, and there is no false charge, power failure, or flashing.
If not charging, the case is too thick pls remove it. International Women's Day. Women's Day Gifts For Women the phone case.Valentines Day Gifts for him Boyfriend Men Dad Anniversary Birthday Mothers day Fathers Day Mens Gift for Men Gifts for Husband Christmas Anniversary Gift for mom Gift for Women Gift Ideas
CarQiWireless Wireless Charger pad for Honda Accord 2018-2021 Overview
CarQiWireless patent design, only for Honda Accord 2018-2022. Early reviewer needed, send your Honda Accord center console area picture to confirm you are a real Accord owner to pd@carqiwireless.com. Limited free wireless charger only for the first 20  Accord owners. If you want to purchase from Amazon directly, search "Honda Accord Wireless Charger CarQiWireless" or click this URL:https://amzn.to/2TxmyO0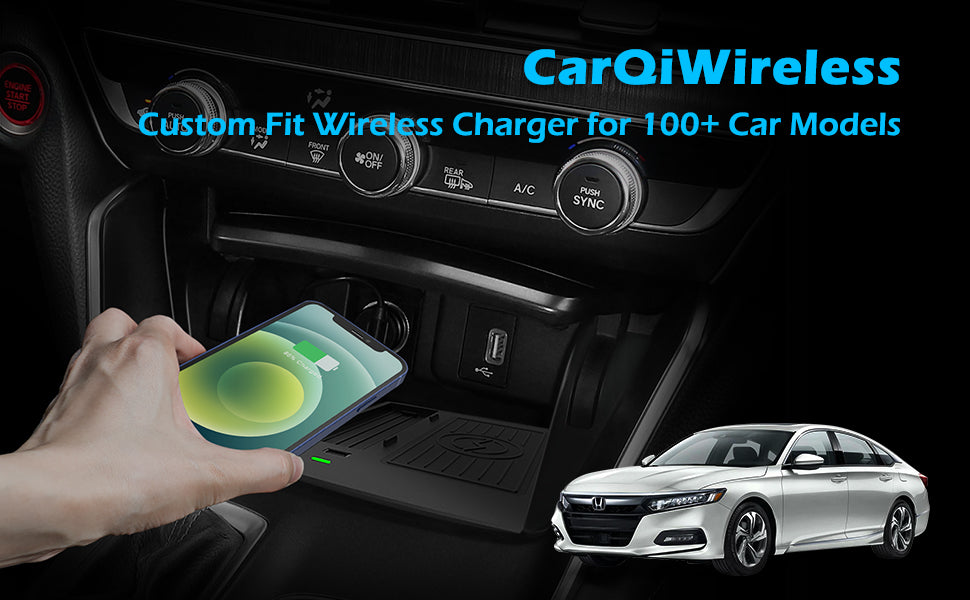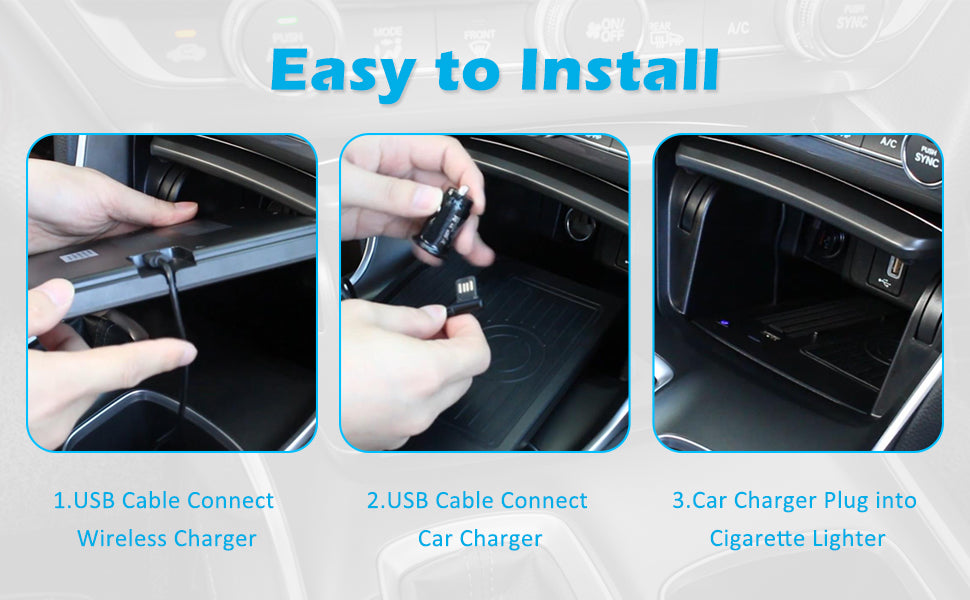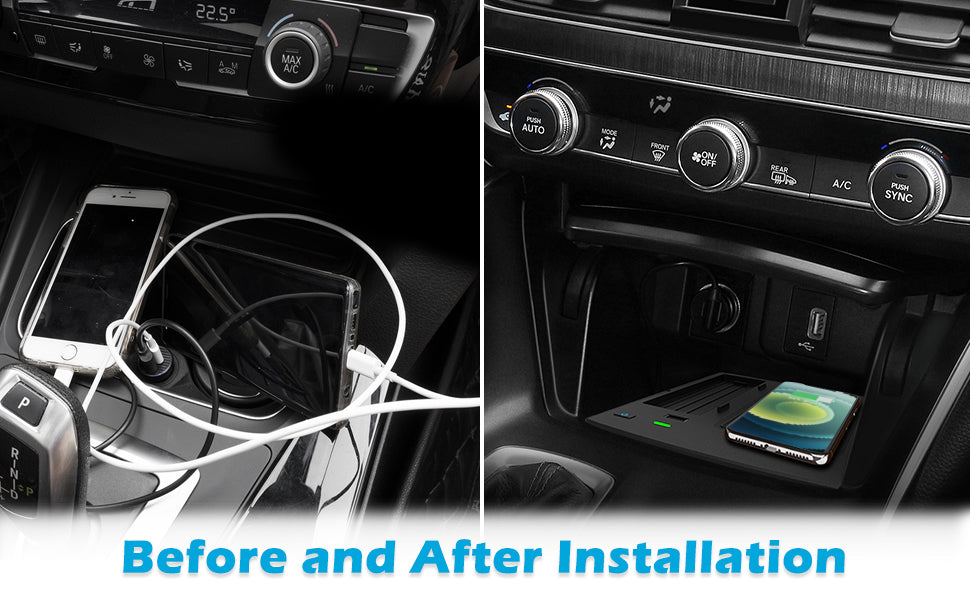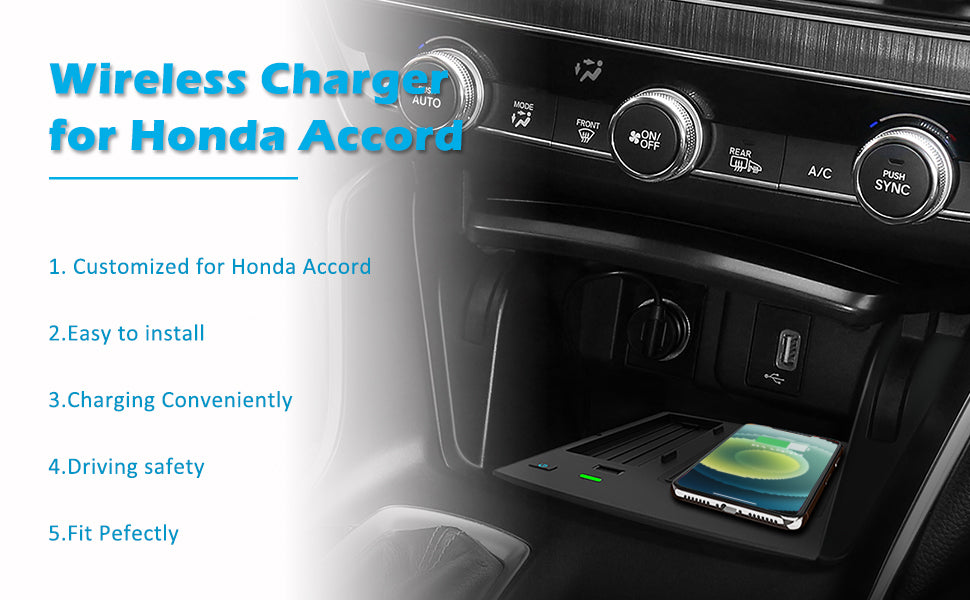 Item

Status

Description

Switch

Blue Light On

Power On

Blue Light Off

Power Off

LED Indicator Light

Green Light On

Charging

Green Light Flashing

Error/FOD

White Light On

Fully Charged
UPC: 778601100206  Part Number: SS000149  FCC ID: 2AS5P-HAD
Car Qi Wireless Phone Charging Pad for Honda Accord 2018 2019 2020 2021
Product Name

 Car Wireless Charger Tray / Automotive Center Consoles Charger Pad 

Vehicle Fitment Make 

2021 Honda ACCORD HYBRID SEDAN 
2021 Honda ACCORD SEDAN 

2020 Honda ACCORD HYBRID SEDAN 
2020 Honda ACCORD SEDAN 


2019 Honda ACCORD HYBRID SEDAN 
2019 Honda ACCORD SEDAN 


2018 Honda ACCORD HYBRID SEDAN
2018 Honda ACCORD SEDAN 

Honda Accord LX
Honda Accord Sport
Honda Accord EX
Honda Accord EX-L
Honda Accord Touring
Honda Accord Hybrid Base, EX, EX-L, 

Input

5V/2A ,9V/1.7A

Output

5W,7.5W,10W

Working Frequency

110KHz-143KHz

Charging Efficiency

78% Max

Coil Quantity

1

USB Port Output

5V/1A
Features: 
* Easy installation, clear space, everyone can DIY;
* With power switch button, can be used as storage box;
* Advanced Anti-slip and Eco-friendly silicone (can wash clean);
* Built-in temperature sensor;
* Heat emission holes on the back for cooling;
* Built-in cooling anti-magnetic sheet;
* With 2-color signal light;
* Fixed in the car center console as original;
* Fast charging with mini QC 3.0 charger 
Package
① Wireless Charger X1
② Anti-slip Mat X1
③ Rubber Pad X1
④ Car Charger X1
⑤ Type-C USB Cable X1
⑥ User Manual X1
Installation: 
1.Push the handbrake to the rear, open the cover of the central storage compartment and take out the rubber pad that comes with the car.
2.Plug one end of the Type-C USB Cable into the Wireless Charger, fix it through the round slot beside and insert the other end into the USB port of the Car Charger.
3.Install the Wireless Charger, slightly move, and adjust it to fit with the car. Turn over the cover of the cigarette lighter and insert the Car Charger.
4.Turn on the switch of the Wireless Charger, and then place the phone compatible with QI standard on it to be charged.
5.Put in the attached Rubber Pad. You can store some small items here, such as keys, USB flash drives, coins, etc.
Q&A
Q: Does this wireless charger support Qualcomm fast wireless charging?
A: Mobile phones with QI protocol can be charged. If it supports wireless charging, it can be charged.

Q: Does this have to be plugged in? Can it charge the car key?
A: We have car charger within the product and plug in the Cigarette lighter.no, it won't charge, We design this place to put small objects such as car keys, and coins.

Q: Will it charge a phone with the vehicle off? Will it pull power from the car battery with the vehicle off?
A: It does charge the phone while the car is in accessory mode but not while the car is completely off. The charger powers off the moment the car is turned off.

Q: Does it connect to android auto to use the maps or it has been with the USB?
A: Yes, you can use android auto when our wireless charger is installed, but your phone will be charged via USB cable when using android auto through a USB cable, our wireless charger will automatically not charge your phone at that time.
Note:
1.If you want to take out the Wireless Charger,you can lift the cable to bring out the Wireless Charger, and then take it out by hand.
2.Do not install the Wireless Charger without the charging cable into the car separately, so as to avoid difficulty in taking it out.