CarQiWireless patent design, only for BMW 3 Series 2016-2018 4 Series 2018-2020. Early reviewer needed, send your BMW 3 Series or 4 Series center console area picture to confirm you are a real BMW 3 Series or 4 Series owner to pd@carqiwireless.com. Limited free wireless charger only for first 20 BMW 3 Series or 4 Series owners. If you want to purchase from Amazon directly, search "BMW F30 Wireless Charger CarQiWireless" or click this URL:https://amzn.to/2Rkw9qH
Valentines Day Mother's Day Fother's Christmas Day Gift--FITMENT: 3 Series 2016-2018 [ F30;F31;F34;M3(F80) ] Style:320i;320i xDrive;328i;328i xDrive;328d;328d xDrive;330i;330i xDrive;330e Plug-In Hybrid;335i xDrive;340i;340i xDrive;330e;330i GT xDrive ;340i GT xDrive ;328i GT xDrive ;330e ;335i GT xDrive; M3): 4 Series 2018-2020 [ F32;F33;F36;M4(F82/F83) ] Style:430i;430i xDrive;440i;440i xDrive;430i Gran Coupe;430i xDrive Gran Coupe;440i Gran Coupe;440i xDrive Gran Coupe ; M4
Compatible with iPhone 14 /iPhone 14 Pro / iPhone 14 Pro Max/ iPhone 14 Plus/ iPhone 13 mini/ iPhone 13 Pro/ iPhone 13 Pro Max/ iPhone 12/ iPhone 12 Pro/ iPhone 12 Pro Max/ iPhone 11 Pro/11/X/8/Pro Max, Xs Max, XR, Xs, X, 8, 8 Plus,Samsung Galaxy S20 S10 S9 S8, Note 10 9 8, as well as Google, Nokia, HTC, LG, SONY One Plus etc.Built with an indicator light showing the charging state, and designed with an ON-OFF button, turn it off, it can hold things as a storage box for sunglasses, etc.
Perfect Design: Comes with an Anti-slip eco-friendly silicon mat that perfectly integrates into the charger, it can still be taken out for cleaning, and built with a fence to keep your phone horizontally in place. Designed with heat emission holes on the back for cooling. Support wireless charging with phone case(If the case is too thick, please remove the case before charging), If not charging, please check if there is any metal like coins, IC cards, etc between the phone and charger.
WIRELESS CHARGING - In order to make the wireless charging pad charge your smartphone, CarQiWireless provides the charging Charger with 9V / 2A charging port. charging 7.5W for iPhone or 10W for Android
if you have any problem, pls feel free to let me know. International Women's Day. Women's Day Gifts For Women Valentines Day Gifts for him Boyfriend Men Dad Anniversary Birthday Mothers' day Fathers Day Men Gift for Men Gifts for Husband Christmas Anniversary Gift for mom Gift for Women Gift Ideas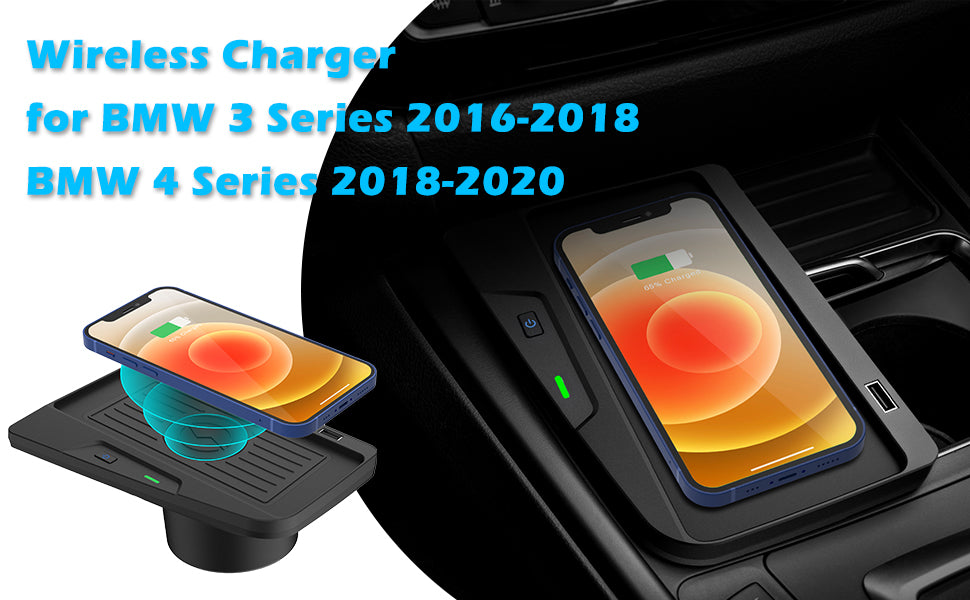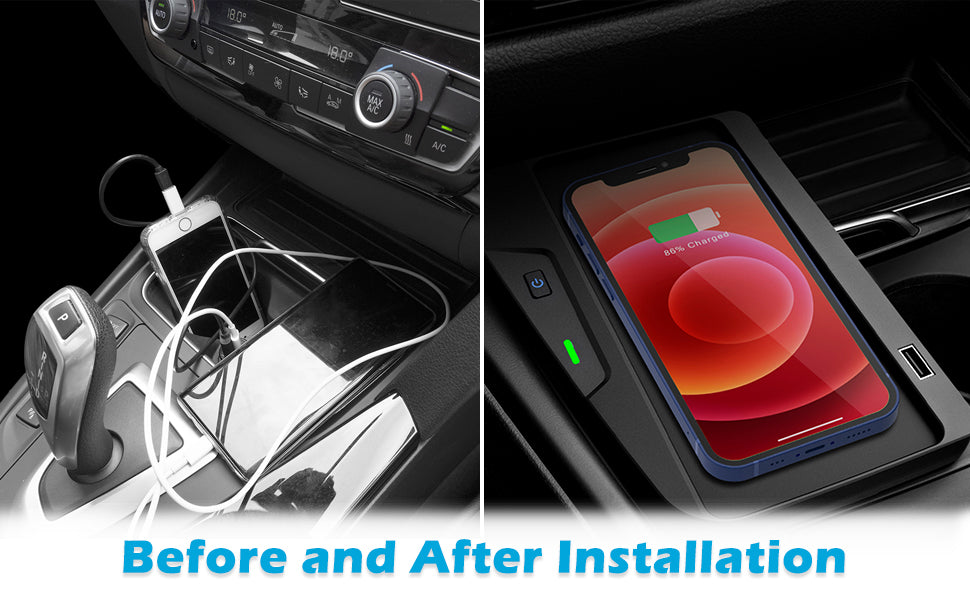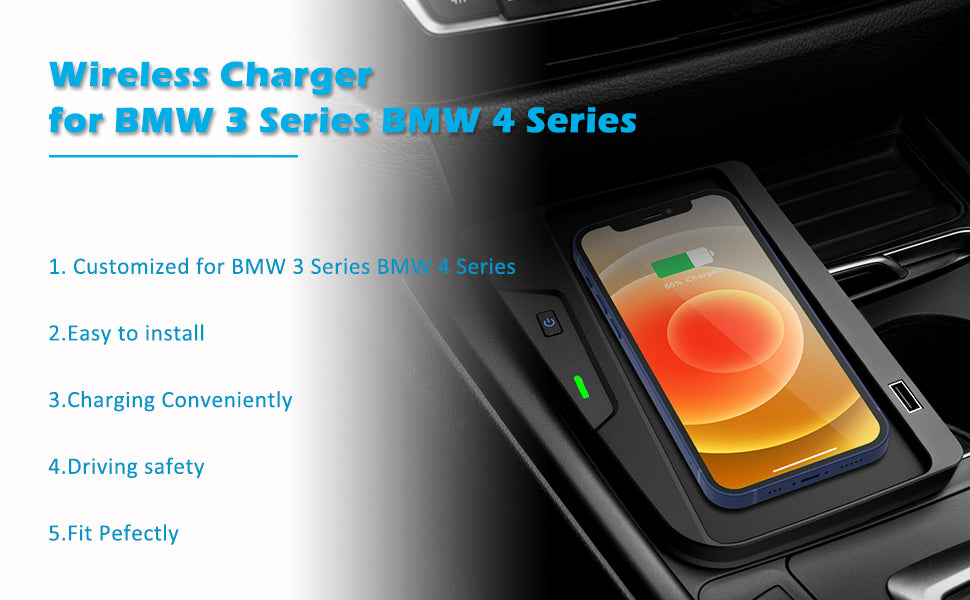 Suitable for
BMW 3 Series 2016-2018 [ F30;F31;F34;M3(F80) ]
BMW 4 Series 2018-2020 [ F32;F33;F36;M4(F82/F83) ]:

3 Series(320i;320i xDrive;328i;328i xDrive;328d;328d
xDrive;330i;330i xDrive;330e Plug-In Hybrid;335i xDrive;
340i;340i xDrive;M3)

4 Series(430i;430i xDrive;440i;440i xDrive;M4)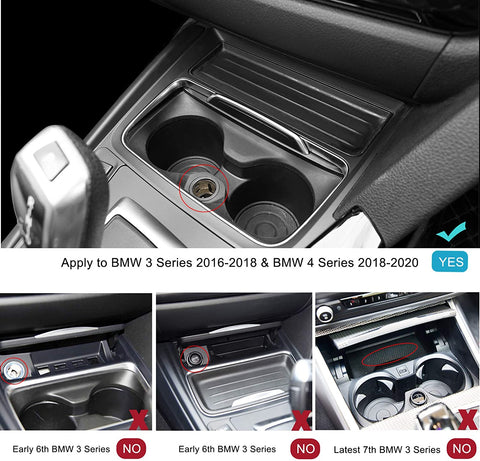 Package:

1 * Wireless Charger for BMW 3 Series 2016-2018 4 Series 2018-2020
1 * Anti-slip mat
1 * User Manual
1 * Rubber pad
1 * Car charger
1 * Type C charging cable

UPC: 791590179923
Part Number: SS000158
FCC ID:2AS5P-HAD
 The wireless charger has high quality and strong stability. It is safe enough to charge two phones at the same time with an extra USB interface. Due to row vents design, it has strong heat dissipation and high charging efficiency. You will be glad to use it in a comfortable atmosphere created by the exquisite charger.
    FITMENT: 3 Series 2016-2018 [ F30;F31;F34;M3(F80) ] Style:320i;320i xDrive;328i;328i xDrive;328d;328d xDrive;330i;330i xDrive;330e Plug-In Hybrid;335i xDrive;340i;340i xDrive;330e;330i GT xDrive ;340i GT xDrive ;328i GT xDrive ;330e ;335i GT xDrive; M3): 4 Series 2018-2020 [ F32;F33;F36;M4(F82/F83) ] Style:430i;430i xDrive;440i;440i xDrive;430i Gran Coupe;430i xDrive Gran Coupe;440i Gran Coupe;440i xDrive Gran Coupe ; M4

    Compatible with All QI:iPhone 11 Pro/11/X/8/Pro Max, Xs Max, XR, Xs, X, 8, 8 Plus,Samsung Galaxy S20 S10 S9 S8, Note 10 9 8, as well as Google, Nokia, HTC, LG, SONY One Plus etc.Built with indicator light shows the charging state, and designed with a ON-OFF button, turn it off, it can hold things as a storage box for sunglasses etc.

    Perfect Design: Comes with Anti-slip eco-friendly silicon mat which perfectly integrates into the charger, it can still be taken out for cleaning, and built with fence to keep your phone horizontally in place. Designed with heat emission holes on the back for cooling. Support wireless charging with phone case(If the case is too thick, please remove the case before charging), If not charging, please check if there is any metal like coins, IC cards etc between phone and charger.

    WIRELESS CHARGING - In order to make the wireless charging pad charge your smartphone, CarQiWireless provides the charging Charger with 9V / 2A charging port.charging 7.5W for iphone or 10W for Android
Q&A
Q: Can I use the normal USB port to power the charger or it has to be plugged into the cigarette plug?
A: Yes you can use the USB port

Q: Does this wireless charger support Qualcomm fast wireless charging?
A: Mobile phones with QI protocol can be charged. If it supports wireless charging, it can be charged.

Q: Why the green led that indicates charging begins to flash?
A: The phone is not solid on the charger or the charger is not seated properly.

Q: Will it charge a phone with the vehicle off? Will it pull power from the car battery with the vehicle off?
A: It does charge the phone while the car is in accessory mode but not while the car is completely off. The charger powers off the moment the car is turned off.