The CarQiWireless BMW wireless cell phone charger is the newest customized for BMW X3 X4 2018 2019 2020 2021 2022. Front console tray add-on charging PAD, with the power switch button. Unique designed wireless charging pad helps you get rid of the annoying charging cable, want charging, just drop it, want to use the phone, just pick it up, keep the interior of your BMW X3 BMW X4 tidy. 
CarQiWireless Wireless Charger pad for BMW X3 X4 2018-2021 Overview
We are having early reviewer program. If you are interested in Car DIY or Mods, join our early reviewer program and become the first one to get the latest Car accessories products. Please contact pd@carqiwireless.com and leave your car Model & Year so that we could arrange proper products for you to review. If you want to purchase from Amazon directly, search " BMW X3 Wireless Charger CarQiWireless" or click this URL:https://amzn.to/3ciomRt
  
Description:
Valentines Day Mother's Day Fother's Christmas Day Gift for men and Women- The CarQiWireless wireless cell phone charger is the newest customized design for BMW X3 2018-2022 BMW X4 2019-2022, you can take advantage of the wireless charging function in your car with it. Great fit for the original car center console of all BMW X3 2018-2022 and X4 2019-2022 perfectly.
Support wireless charging with phone case(If it is too thick, remove the phone case), If not charging, please check if there is any metal like coins, IC cards, etc between the phone and charger
Compatible with iPhone 14 /iPhone 14 Pro / iPhone 14 Pro Max/ iPhone 14 Plus/ iPhone 13 mini/ iPhone 13 Pro/ iPhone 13 Pro Max/ iPhone 12/ iPhone 12 Pro/ iPhone 12 Pro Max/ iPhone 11 Pro/11/X/8,Samsung Galaxy Note 10/Note 10 plus/S10/S10 plus/S10E,etc.Built with an indicator light showing the charging state, and designed with a ON-OFF button, turn it off, it can hold things as a storage box for sunglasses etc.
Save 1 Minute every day: NO insert phone, NO plugin & plug out cables, plug & play, drop & charge, pick up & go, enjoy the real wireless convenience, save 1 minute every day in daily commute, a must-have accessories & perfect gifts idea for BMW X3 X4 owners
EASY INSTALLATION - everyone can DIY in minutes. No damage to the car's original structure. No messy cables anymore after installation. Seamless match the original car structure of BMW X3 X4.12 months warranty, any question feel free to contact us at any time. International Women's Day. Women's Day Gifts For Women Valentines Day Gifts for him Boyfriend Men Dad Anniversary Birthday Mothers day Fathers Day Mens Gift for Men Gifts for Husband Christmas Anniversary Gift for mom Gift for Women Gift Ideas
Car Accessory for:
BMW X3 2018 2019 2020 2021 2022 BMW X4 2019 2020 2021 2022
Compatible all Wireless Enable Cell Phones(please check the image 8th):
Apple(iPhone 11 Pro Max/iPhone 11/iPhone XR/iPhone XS Max/iPhone XS/iPhone X/iPhone 8/iPhone 8 Plus);
Samsung(Samsung Galaxy Note 10 plus/Samsung Note 10/Samsung Note 9/Samsung Note 8/Samsung S8/Samsung S8 /Samsung Note 7/Samsung Galaxy S7/Samsung Galaxy S7 edge/Samsung S6 edge /Samsung Note 5/Samsung S6/Samsung S6 edge); etc...


Package:
1 * Wireless Charger for BMW X3 X4
1 * USB cable
1 * User Manual
Note:
Please check whether your phone is wireless charging enabled phones first before you buy. Charge with a phone case(thinner than 4mm) is OK, but just make sure there is no metal between the charger and the phone.
✉If you have any questions about this order, please feel free to contact us at any time, Carqiwireless will help you to solve the problem.
FCC ID:2AS5P-BCS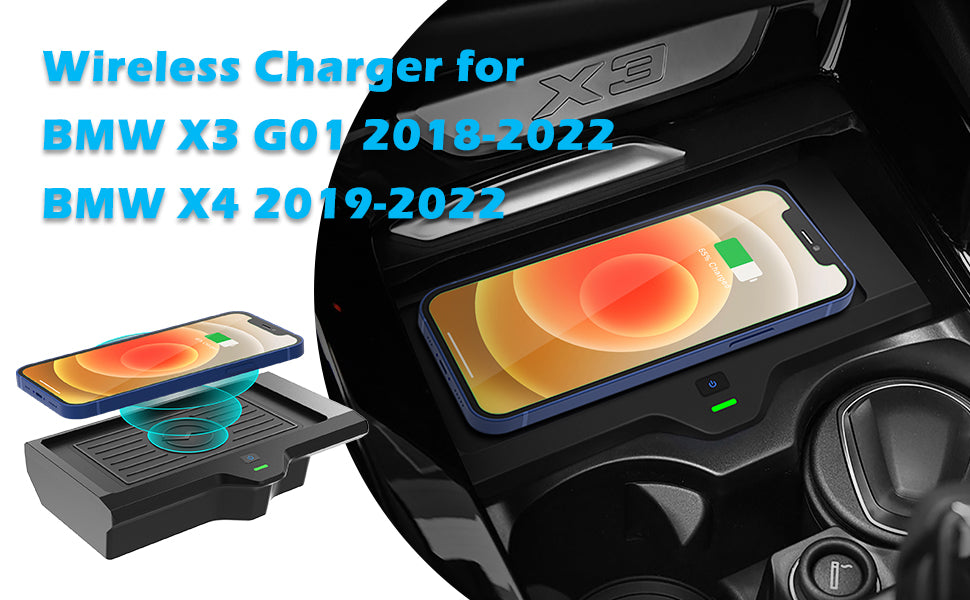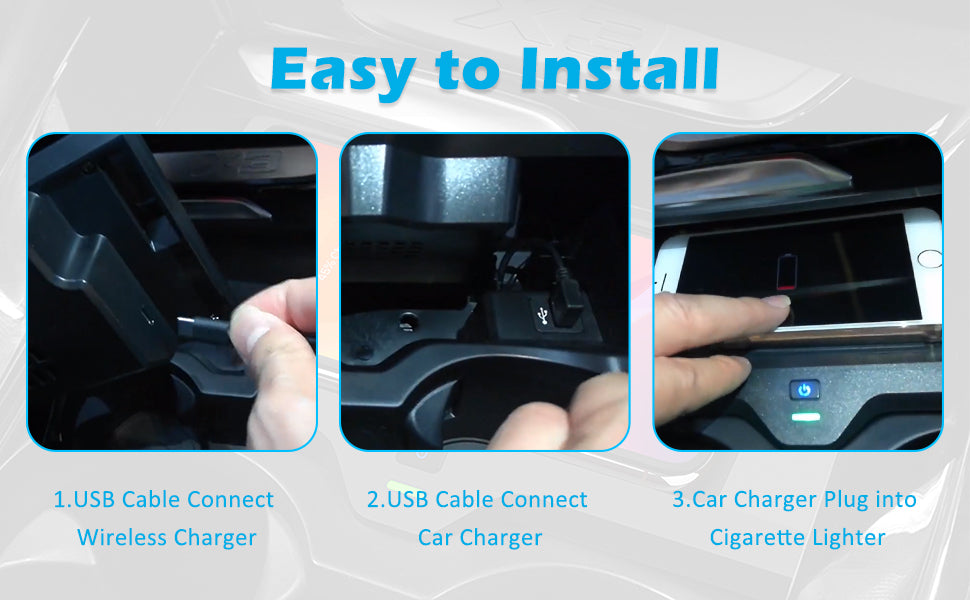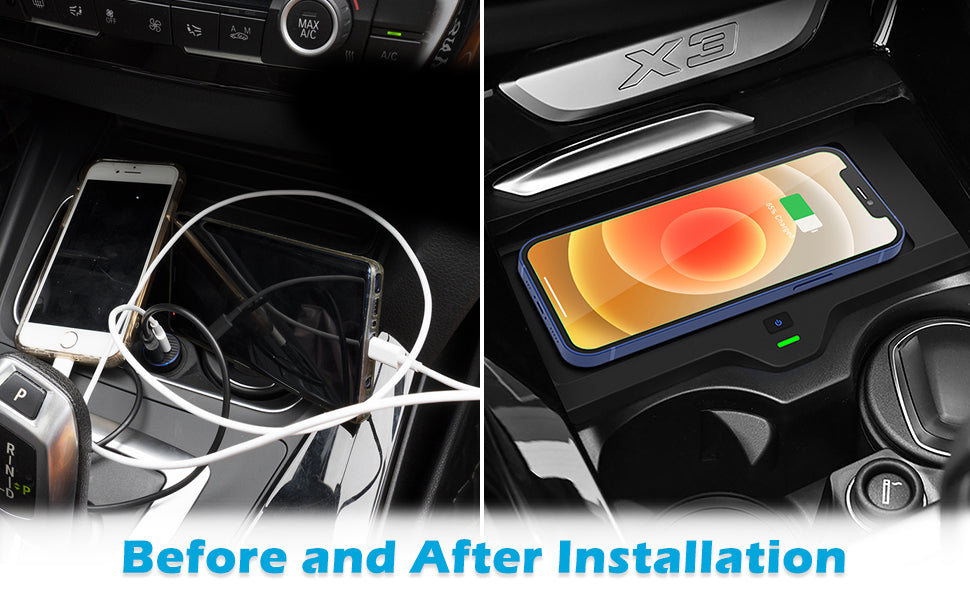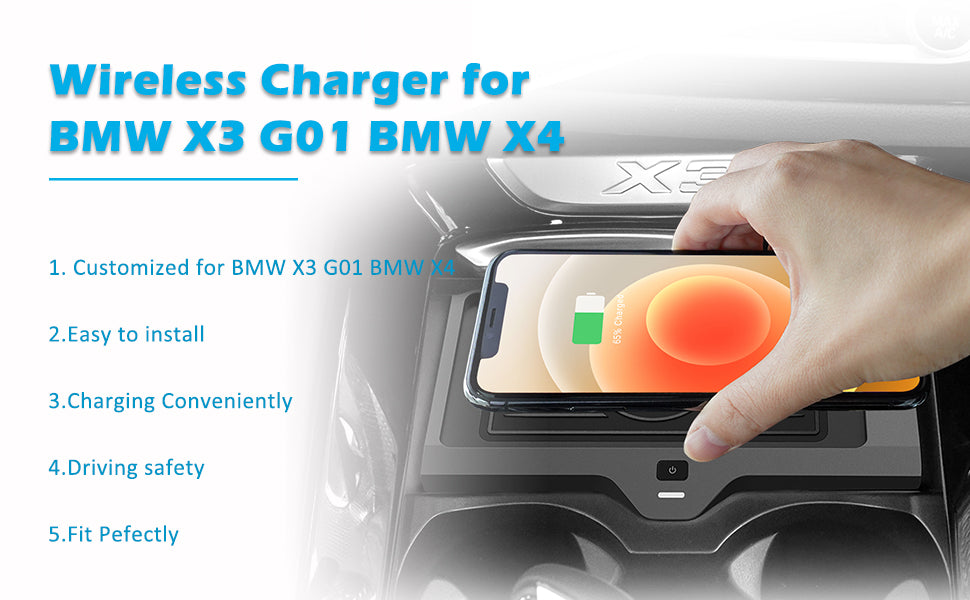 Q & A
BMW X3 X4 Demo Wireless Charger Installation Video
(Note: the white color product in this video is hand made, our real product is Black color)
Lamp Status Description
Item

Status

Description

Switch

Blue Light On

Power On

Blue Light Off

Power Off

LED Indicator Light

Green Light On

Charging

Green Light Flashing

Error/FOD

White Light On

Fully Charged
Specification
| | |
| --- | --- |
| Product Name | BMW X3 X4 Wireless Charger |
| Model | BX3-03 , Gen 3 |
| Input | 5V2A  9V1.7A |
| Output | 5W,7.5W,10W |
| Working Frequency | 110KHz-143KHz |
| Charging Efficiency | 75% Max |
| Coil Quantity | 3 |
Notes about affecting charging performance
The charger is suitable for the rubber\plastic\TPU case and so on but the thick mobile case(especially over 4mm) can affect charging speed and even cause intermittent charging or stopping.
When the charger doesn't work, please check if there is any metal like coins, IC Cards, bank cards, or other mental objects between the phone and charger.
Questions & Answers
Q: When using a wireless phone charger for BMW 7 Series 2021 2020 2019 2018 2017, can I use the phone case at the same time?
A: Yes, you can, just make sure no metal on the phone case.
Q: Does the wireless phone charger for BMW 7 Series 2021 2020 2019 2018 2017 be compatible with my iPhone 8 Plus?
A: Yes, it is compatible with iPhone 8, 8 Plus, X, XS, XS Max, XR, it is compatible with all Qi wireless-charge-enabled devices. You may refer to the above sheet for its supported phone list.
Q: Does the wireless phone charger for BMW 7 Series 2021 2020 2019 2018 2017 support fast charging?
A: Yes, it supports 10W, 7.5W, and 5W charging.
Q: Do you provide free shipping worldwide?
A: It is free shipping to the US. 
Q: Why should I choose Car Qi accessories?
A: It is the most useful BMW 7 Series accessories with high quality and good performance. It is specially designed for the BMW 7 Series. It can fit the car nicely.